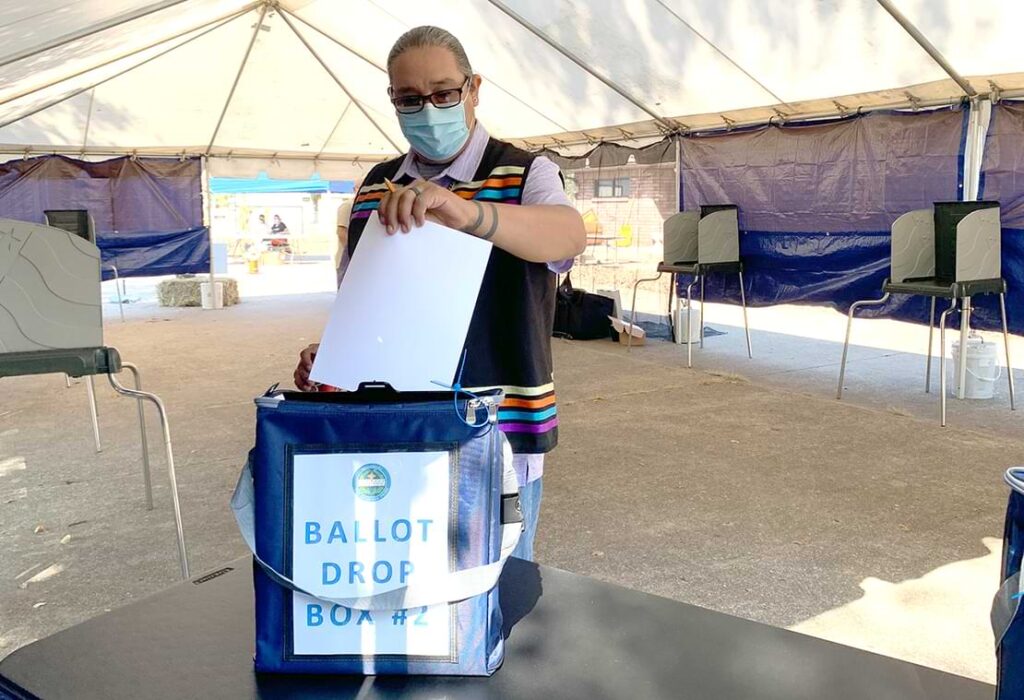 In February of 2023, the Shawnee Tribe Business Council approved a revision to Title 6, The Shawnee Tribe Elections Act. This amendment of Title 6 impacts the candidate filing process and filing fees, as well as how to cast your ballot. Changes were also made to regulate campaigning activities, political advertising, and candidate endorsements. The entire Elections Act is available to the public and can be viewed online at shawnee.municipalcodeonline.com.
Here are the things you need to know regarding the 2023 Shawnee Tribe elections:
The Election Committee of the Shawnee Tribe announces an election shall be held on Saturday, September 16, 2023, in conjunction with the annual Tribal Council meeting, for the following offices:
| | | |
| --- | --- | --- |
| OFFICE | TERM | INCUMBENT |
| CHIEF | 4 YEARS | BEN BARNES |
| BUSINESS COUNCIL SEAT 1 | 4 YEARS | CAROLYN SMITH |
| BUSINESS COUNCIL SEAT 2 | 4 YEARS | DIANA MCLEAN |
In addition to the offices to be elected, the Shawnee Tribe Ad Hoc Salary Commission will put the following question before the citizens for a "yes" or "no" vote:
Ballot Question: Shall the monthly stipends for the Business Council Treasurer and Secretary be increased to $2,100 per month and shall the At-Large Council members stipends be increased to $1,400 per month, effective October 1, 2023?
Candidate filing:
The filing period for all offices closed on June 16, 2023, at 4:30 pm.
Candidates must 1) meet the qualifications outlined in the Shawnee Tribe Elections Act, 2) complete and sign the Candidate's Declaration of Intent form as provided by the Election Committee, 3) submit the applicable filing fee at the time of filing, and 4) submit to a background check by signing the authorization form. You may phone 918-542-2441 or 918-325-6341 to obtain the appropriate forms or click the button below to download them.
Download Candidate Filing Forms
| | |
| --- | --- |
| CANDIDATE FILING FEES | |
| CHIEF | $250 |
| AT-LARGE BUSINESS COUNCIL SEATS | $150 |
Tribal staff will receive filings by mail or by hand delivery. The filing fee must be included with the declaration form. Only cash, checks, cashier's checks, or money orders will be accepted.
Hand deliveries should be brought to the Tribal Office located at 29 South Highway 69A, Miami, OK 74354 (8:30 am to 4:30 pm).
Candidate filings should be mailed to the Shawnee Tribe Election Committee, PO Box 189, Miami, OK 74355.
Casting a ballot:
At the annual meeting: Voting will take place from 8:00 to 11:00 AM on Saturday, September 16, 2023, prior to the annual meeting of the Tribal Council. The location of the annual meeting and election is People's Community Center at Bowlin Spring, 428099 East 270 Road, Chelsea, OK 74016.
Early in-person: Opportunities for early voting will be offered for the first time in 2023. Early in-person voting will be available on Friday, September 15, 2023, from 9:00 AM to 6:00 PM at the same location as the annual meeting.
Absentee by mail: Early voting by absentee ballot (vote-by-mail) will also be offered in 2023. Citizens may request a ballot by mail by filing the Application for Absentee Ballot by Mail form. You may contact the Election Committee at 918-325-6341 or click the button below to obtain the application. All applications for absentee ballots must be received by September 1, 2023. Any citizen participating in early or absentee voting will not be allowed to cast a ballot in person on election day. All voted Absentee ballots must be received by 5:00 pm (Central) September 14, 2023 by the election committee.

In-person delivery: 32 A Street SE, Miami, OK 74354
Mailing Address: PO Box 189, Miami, OK 74355
Download Application for Absentee Ballot Form
If you have any questions regarding the upcoming Shawnee Tribe elections, please contact the Shawnee Tribe Election Committee at 918-325-6341.